Havahart® Easy Set® Small 1-Door Animal Trap
Havahart® Easy Set® Small 1-Door Animal Trap
76
4.5
5
1
Earn 1240 rewards points on your purchase! Learn More
Best Used For: rabbits, skunks, squirrels, and weasels
Patented Easy Set® Design – set & release with one hand
Large, comfortable handle ensures easy carrying
Galvanized steel mesh with smooth, rolled edges protect animals from injury
Spring-loaded door lock prevents animals from escaping
Sensitivity screw allowing to tailor the trap to a target animal
Includes 1 trap
Best Used For





Trapping Has Never Been Easier
Trapping has never been more simple than with Havahart® Easy Set® traps. Patented technology allows you to set your trap with just one hand, and let critters go without ever touching the door. Plus, updated sturdy hardware provides additional comfort and durability to this simple rabbit trap.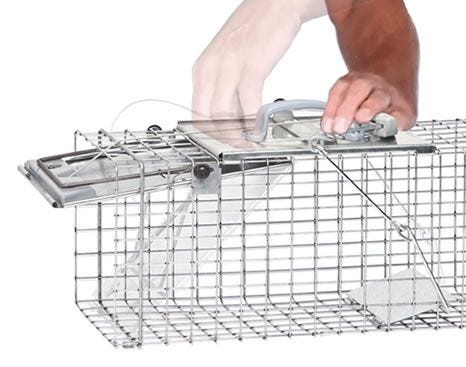 Set and Release with One Hand
Set this animal trap in just 1 simple step. Just pull on the patented Easy Set® lever to lock open the door, and it's ready for a catch. Best of all, the lever also allows you to release the animal while standing away from the trap, clear of the animal's escape path.
Watch more videos: Releasing Animals Safely » | How To Trap » | How To Bait »
Enlarged Hand Guard and Carrying Handle Protect You
An enlarged steel plate covers the entire width of the top of the trap, protecting your hand from contact with the animal, and the updated, rigid plastic carrying handle makes the handling experience even more comfortable for you.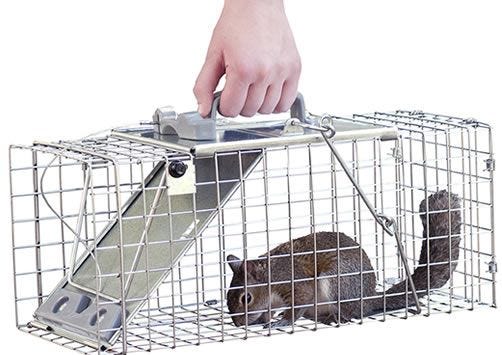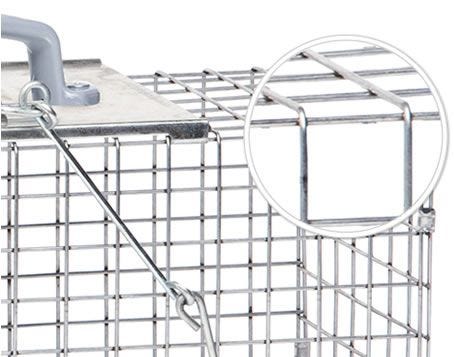 Rolled Metal Edges Protect the Animal
Like other Havahart® traps, this one is constructed of one-piece wire mesh, galvanized for resistance to rust and corrosion. And edges are polished smooth to protect the animal from injuring itself during transport or as it struggles to escape.
No-Escape Door Locks Give You Peace of Mind
The tight spring-loaded door features an updated door lock with added reinforcements, making your trap more escape-proof than ever.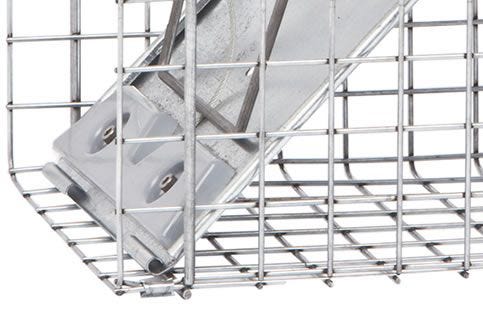 Check out Havahart® Small Size Trap options - Compare and find the best trap for your problem!
X-Small 1-Door Trap
X-Small 2-Door Trap
Small 1-Door Trap
Small 2-Door Trap
Model #
0745
1020
1083
1025
Trap Length
17 in
10 in
17 in
18 in
Trap Opening (w x h)
6 x 6 in
3 x 3 in
7 x 7 in
5 x 5 in
# of Doors
1
2
1
1
Set as 1- or 2-Door Trap
✔
✔
Easy Set® 1-Step Set & Release
✔
Enlarged Handle Guard
✔
Galvanized Steel
✔
✔
✔
✔
Manufacturer's Warranty
1 Year
1 Year
1 Year
1 Year

WARNING: This product can expose you to chemicals including lead and lead compounds, which are known to the State of California to cause birth defects or other reproductive harm. For more information go to www.P65Warnings.ca.govwww.P65Warnings.ca.gov.
Havahart® Small 1-Door Easy Set® Trap
Model #
1083
Dimensions
17" x 7" x 7"
Weight
4.7 lb
Materials

Galvanized steel
One-piece 12-gauge wire mesh

Number of Doors
1
Door Type
Spring-loaded
Setting Mechanism
1-Step Easy Set® Lever
Best Used For

Rabbits
Skunks
Squirrels
Weasels
Is the 1083 the best trap for Grey Squirrels? My biggest concern is will a Grey Squirrel be heavy enough to trip the trigger?
Question by: Don on Jan 9, 2019, 7:00 PM
This trap is recommended for squirrels and will be effective.
Answer by: Woodstream (Admin) on Jan 9, 2019, 7:00 PM
I have a nuisance bird I want to re-locate. Will this trap work for a bird?
Question by: Bob Gardner on Jan 29, 2020, 7:00 PM
Our traps have not been tested for use in catching birds.
Answer by: Woodstream (Admin) on Jan 30, 2020, 7:00 PM
Would this trap work for rats?
Question by: carol on Aug 17, 2020, 8:00 PM
Yes.
Answer by: Woodstream (Admin) on Aug 18, 2020, 8:00 PM