How to Get Rid of Skunks Humanely
Although skunks are more beneficial in our yards than we realize (they feed on harmful pests), many homeowners prefer to be skunk-free because of their notorious odor and ability to dig beneath foundations. The best way to get rid of a skunk is to implement an integrated control plan - one that employs methods of both skunk removal and deterrence. Havahart® provides step-by-step instructions below to teach you how.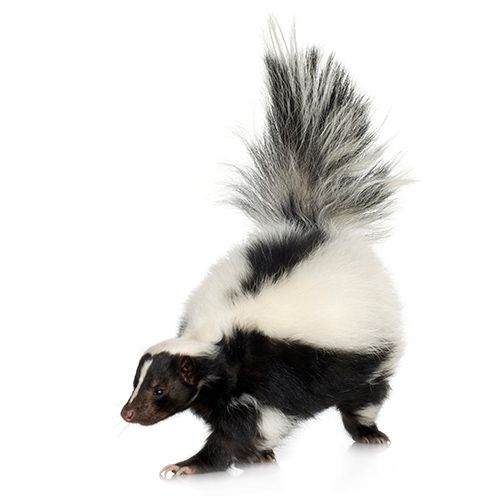 SHOP SKUNK SOLUTIONS »
How to Get Rid Of

1Eliminate Food and Shelter

The first essential step in getting rid of skunks is removing elements from your yard that may be attracting skunks in the first place. Skunks likely enter your yard in search of food and shelter, and if these elements aren't present, they will seek them elsewhere.

Clean up fallen berries, fruits and seeds.

Rake up leaves or grass in which seeds or other food may be buried.

Remove garbage and use tight-fitting lids on your trashcans.

Fill abandoned burrows with gravel, or cover them with wire mesh or fencing (see Expert Tips).

Close off access to sheds, barns and poultry houses.

Eliminate woodpiles, junk piles, hollowed logs and any other debris in which skunks can take shelter.

2

Identify Areas of Damage

In order to determine the best control method, it's important to become familiar with your skunks' behavior and the damage they cause.

Common skunk habits include:

living under your porch/shed
burrowing underneath your lawn/home
digging in your lawn for grubs and insects (leaving small cone-shaped holes)
eating your fruits/berries
pilfering your trash
raiding your poultry house

To learn more about skunks and identifying skunk damage, read Skunk Facts »

3

Choose the Right Control Method

Once you're aware of the skunk activity in your yard, you can select the best skunk control method(s) for you. Depending on the type of damage caused and the size of the skunk population in your area, you may choose to adopt more than one method - keep in mind that the more methods you use, the more likely you'll find long-term success.

Live Skunk Trap

A live skunk trap is a great solution for getting rid of a resident skunk that's taken shelter in your yard. Because skunks are known to spray when threatened, some homeowners may hesitate to use this method, but it is one of the best methods for a stubborn animal. Below are steps you can take to keep from getting sprayed:

Hold a large towel or sheet in front of you, down to your toes, as you walk towards the trap.
Approach a trapped skunk calmly, humming softly as you near the trap in order to avoid startling the animal.
Drop the towel or sheet over the cage once you reach it. Skunks don't like to spray if they can't see their target.

For more tips and step-by-step instrucions, read How to Trap a Skunk »

Skunk Repellents

Skunks navigate and seek out food using their acute sense of smell. By disturbing their sensitive noses with a powerful scent and taste deterrent, you can drive skunks away from certain problem areas.

Sprinkle a granular repellent in and around your yard or garden to keep skunks out of certain areas.
Spray a liquid repellent onto surfaces like mulch, grass, trash or cornstalks to prevent skunks from digging or eating.

For more information, read How to Repel Skunks »

Electronic Repellents

Skunks are skittish, so electronic repellents designed to frighten passing animals are great solutions for conditioning skunks to stay away from protected areas. Electronics are eco-friendly, so you can install one to protect a wide range of areas, such as:

yards/lawns
flowerbeds
entryways
trash cans

corn fields
mulch beds
pathways
barns

koi ponds
plants
pool areas
poultry houses

While traditional skunk repellents need to be reapplied regularly to maintain repellency, electronic repellents only need to be purchased and installed once.

For more information, read Why Electronics »

Fencing

Skunks are not skilled climbers, so a properly installed fence can help exclude skunks from your property. Remember that skunks are designed to dig, so any fencing must extend below the ground to prevent skunks from getting underneath. Some guidelines to consider when installing a skunk fence include:

Fencing should stand at least 3-4 feet above gound level.
Bury fencing 1-2 feet below ground level.
Bend the underground portion of the fence outward at an angle to prevent a skunk from digging underneath it.

You can also install mesh fencing or sheet metal to cover openings in your foundation or underneath structures. If skunks are currently living underneath your porch or other structure, drive them out before completely covering the openings.

Expert Tips

A mother skunk will endure most control efforts when caring for her young on your property. Skunks breed in the spring, and kits remain in the care of their mothers until fall, so it's important to begin your integrated control plan before the breeding season begins.

You can prevent skunks from occupying abandoned burrows by burying wired fencing over burrow entrances. VERY IMPORTANT: make sure that there are no animals living in the burrow by loosely covering each entrance with leaves and dirt. If you find that after a few days these holes remain undisturbed, you can proceed to close off the burrow.

Skunks are nocturnal and sensitive to light and sound. If it's not disturbing your neighbors or family, you may choose to drive skunks out of your yard by keeping music on at night and/or installing night-lights around your property. Although these methods are only temporary solutions, they may help as additions to your integrated control plan.

As with most other wild animals, employing multiple skunk control products at once will increase your chances of long-term skunk control.

Before attempting to trap a skunk, call your local SPCA or humane league to determine the laws and regulations regarding trapping and relocating the type of wildlife in your area.
Related Articles:
Related Products: