Trapping 101
In this section, Havahart® provides general live animal trapping information. You'll find an overview of how to trap animals, different trap types, and answers to your most common animal trapping questions!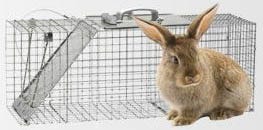 Trap Types
Havahart® offers over 20 varieties of live animal cage traps to tailor to your needs. Below, Havahart® provides information about each trap type available, to better help you choose which trap is right for you.
1-Door vs. 2-Door

1-Door Traps

Better bait protection: Place bait just beyond the trigger plate towards the back of the trap.
Easier for larger animals to fully enter trap.
Favored by professionals due to the style's simplicity.

2-Door Traps

Dual entry provides a higher catch rate, since animals can enter from either direction.
Ability to see through trap makes cautious animals more confident in entering.
Versatile: can be set with either 1 or 2 doors open.
TIP: Havahart® recommends using a 2-door trap when you want to catch an animal that has a regular path, or that travels along a wall. Bait the trap and set it along the wall in order to successfully catch your critter traveling from either direction.
Collapsible vs. Non-Collapsible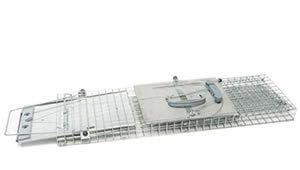 Collapsible
Easy to store: takes up less room in storage - can be broken down and stored flat.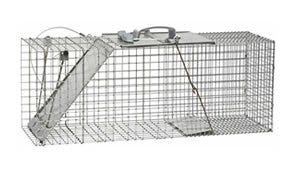 Non-Collapsible
Ready to use out of the box: does not require assembly prior to setting.
Easy Set® Traps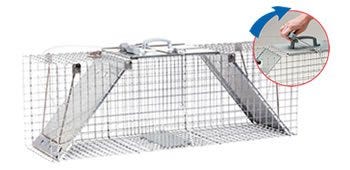 Easy and perfect set every time: in one motion, pull the lever on top of the trap to lock doors into place.
Allows you to release an animal without touching the doors.
Most comfortable to carry due to a rigid plastic handle and enlarged handle guard.
Visit our Easy Set® Brand page for more information.
Feral Cat Trapping Kit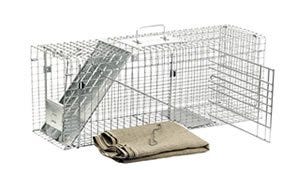 Specially designed for the capture and short-term care of feral cats.
Allows a trapper to feed and care for a cat without it escaping: features a divider and hinged back door with lock.
More comfortable for cats: burlap cover soothes cats while inside the cage.
Need More Help Finding the Right Trap?
Check out the Havahart® Trap Guide »
Before operating a live animal trap, please check with your local authorities to determine the trapping laws in your area.