Deer Could Be Causing The Problem.
Here's Our 2-Step Solution:
1
Remove Attractants & Shelter
Rabbits are attracted to areas where there is tall grass, debris, and excessive plant growth. This is where they like to take shelter. Eliminating these elements will help keep rabbits from living on your property.
Harvest fruits and vegetables as early as possible
Trim hedges, bushes, and trees to remove cover
Remove bird feeders and birdbaths
Cut your grass regularly to deter bedding
2
v
Use Repellents to Make Them
Unwelcome to Return
Deer rely heavily on their sense of smell to locate food and to sense danger. Select a repellent that contains a high concentration of putrescent egg or dried blood - two powerful scent deterrents proven to repel deer. For high-pressure areas, use a repellent with both scent and taste deterrents.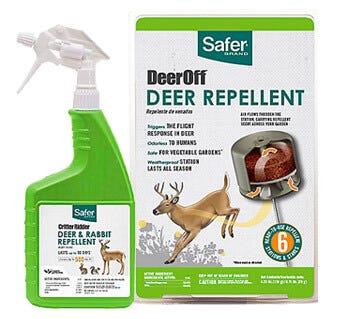 Shop Deer Repellents »
Available Solutions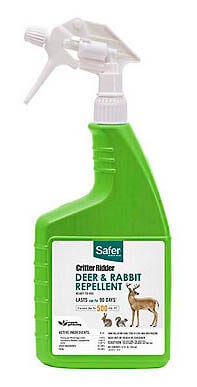 Deer Repellent Read-To-Use Spray
Dual-action formula targets scent and taste to offer up to 90 days of protection!
Shop Now »
Deer Off® Deer Repellent
Dried blood scent repels deer, and the discreet weatherproof housing ensures season-long protection.
Shop Now »