Critter Ridder® Motion-Activated Animal Repellent & Sprinkler - All Questions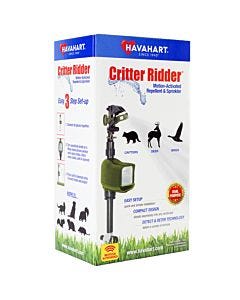 Critter Ridder® Motion-Activated Animal Repellent & Sprinkler
Can this work if the water supply is a rain barrel ?
Question by: Jim on Apr 27, 2019, 8:00 PM
For this product to function best, it needs a pressurized water source. PSI of the Spray Away should be between 25 and 80.
Answer by: Woodstream (Admin) on Apr 28, 2019, 8:00 PM
Can I buy replacement parts for Havahart Critter Ridder?
Question by: Karen Stewart on May 10, 2023, 1:34 AM
Replacement parts are not available for this product, but it is covered by a two-year warranty. Please feel free to contact us directly for additional assistance.
Answer by: Susan (Admin) on May 10, 2023, 9:11 AM