The New Feral Cat Infographic from Havahart® Supports Trap Neuter Return Programs
NEWS RELEASE - For Immediate Release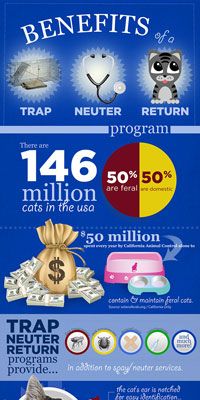 LITITZ, Pa., November 1, 2012 -- As Havahart® becomes more involved in the Trap-Neuter-Return (TNR) community, the company has released a new infographic on its Wild Neighborhood blog, aimed at educating the population about caring for feral cats.
This eye-catching visual is simple, yet informative. Designed to read from the top-down, the infographic begins with a couple of attention-grabbing statistics , followed by some basic information about the TNR process. The remainder highlights the benefits of Trap-Neuter-Return, including cutting taxpayer costs and reducing cat overpopulation.
Included underneath the infographic is an embed code, allowing anyone, including animal shelters and TNR programs, to share it on their websites and through social media outlets.
Accompanying this visual is a more in-depth article, "The Benefits of Feral Cat TNR Programs vs. Euthanasia," which provides additional pertinent information about TNR including what it means, the benefits, and how to get involved.
The goal of this infographic is to get more people involved in the Trap-Neuter-Return movement, and reduce the rate of feral cat euthanasia.
The Havahart ® Wild Neighborhood has strong readership with almost 10,000 unique monthly visitors and growing. The folks behind the blog are excited to share with everyone their passion for this special cause, and hope for the infographic to become viral, spreading the word about TNR.
See the full article and infographic here.
About Havahart®:
Havahart®, a leading manufacturer of caring wildlife control products for more than 60 years, offers live animal traps and animal repellents. Its live animal traps are a safe and humane animal control alternative. Many of the company's animal repellents are OMRI listed® organic or USDA® approved for organic gardening, reflecting the Havahart® commitment to a cleaner, healthier environment. For more information, visit www.havahart.com or call 800-800-1819.
Havahart® is a registered trademark of Woodstream Corp.
About Woodstream Corp:
Woodstream Corporation is a long-standing, privately held company and a leading manufacturer and marketer of quality-branded wild bird feeders, rodent control products, caring control products for pets and wildlife, decorative garden accents & natural solutions for lawn and gardens. For more information, visit www.woodstreamcorp.com or call 800-800-1819.