Havahart® Small 2-Door Animal Trap
As low as
$34.99
Regular Price
$46.49
Havahart® Small 2-Door Animal Trap
78
4.3
5
1
Earn 1860 rewards points on your purchase! Learn More
2 spring-loaded doors ensure fast, secure trapping
Outside trigger rod prevents animal damage while trapped inside
Smoothed inside trap edges protect animal & prevent injury
Designed for higher catch rate and fewer escapes
Galvanized steel resists rust & corrosion
Available as 1, 2, 3-Pack
Best Used For




Havahart® Small 2-Door Animal Trap - 3 Pack
The Havahart® Small 2-Door Animal Trap will help you effectively control chipmunks, rats, squirrels and other small nuisance animals that invade your property. Designed by trapping professionals, the trap comes fully assembled and ready to use – simply bait and set. Featuring two spring-loaded doors and a sensitive trigger plate, this trap is designed for higher catch rates and fewer escapes. Plus, the one-piece high-tensile wire mesh construction with steel reinforcements protects this trap from damage by unpredictable critters.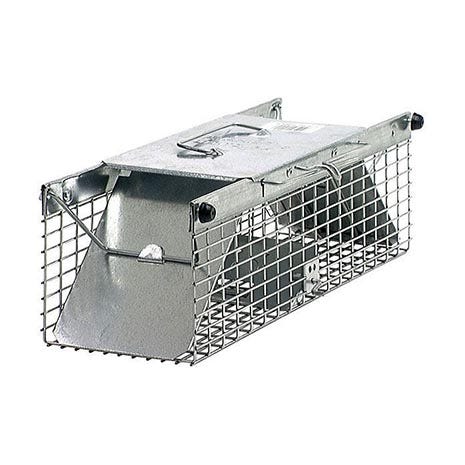 Effective for Small Animals
The Havahart® Small 2-Door Animal Trap is carefully constructed so that small critters can't outsmart it. The trip plate is sensitive so that lightweight animals, such as chipmunks and rats, can easily trigger it. Plus, the mesh openings are much smaller than competing traps, so little critters can't steal the bait or escape.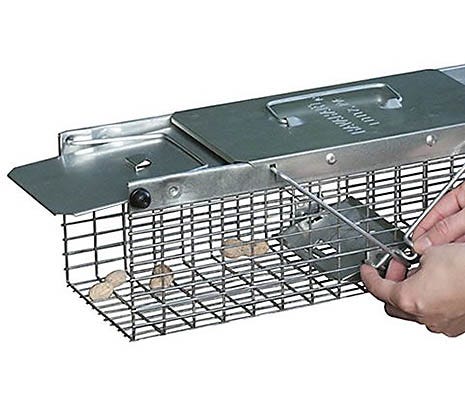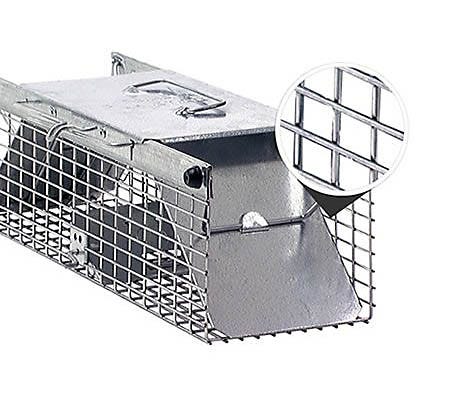 Built to Last
Made with premium materials, Havahart® traps are designed to endure harsh weather and unpredictable animal behavior. The industrial strength, one-piece wire mesh construction is galvanized for maximum resistance to rust and corrosion, while solid doors and steel reinforcements add to the durability of the trap to ensure a long life for your trap.
Easy to Use
You don't have to be a pro to use a Havahart® trap. This trap arrives already assembled out of the box so it's ready to use. In addition, the simple-to-use design allows trappers of all experience levels to capture, transport, and release small animals with ease. See for yourself in this video!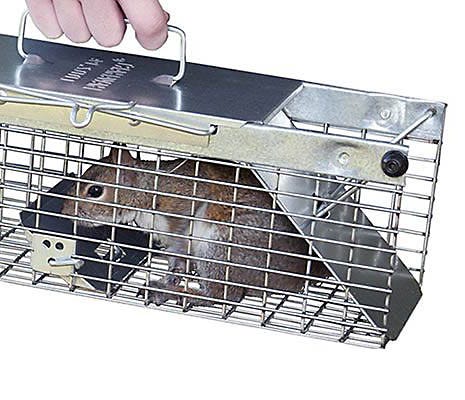 Safe for You and the Animal
For You: A handle guard and solid doors protect you from coming into contact with the animal while it is inside the trap. The handle allows you to carry the trap away from your body during transport.
For The Animal: Strong door locks keep animals safely in the cage, and smooth, rolled edges prevent anxious critters from injuring themselves during transport.
Two-Door Design for Higher Catch Rates
The dual door function allows you to create a clear path from one end of the trap to the other by setting it with both ends open. Place the trap against a wall or along an animal's path in order to capture it as it travels from either direction. In order to access the bait and get to the other opening, the animal must step on the trigger plate, resulting in a catch.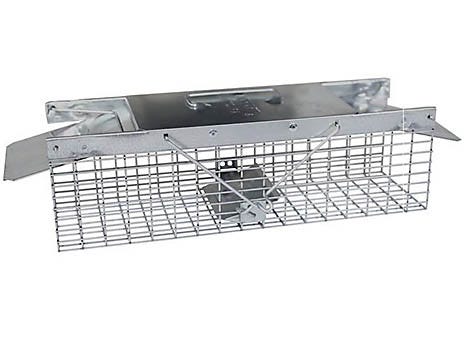 "Quit stalling, buy it. After 6 months of having an annoying attic critter, I bought the two door trap. I set the trap in the attic, baited with peanut butter on a cracker, and two hours later – problem solved. The freeloading chipmunk was taken back to woods."
Havahart® Small 2-Door Animal Trap Product Details
Do you want to know more helpful details about the Havahart® Small 2-Door Animal Trap? Take a closer look at the in-depth specifications for this product.
| | |
| --- | --- |
| Model # | B1025-3 |
| Door Type | 2 Spring-loaded Doors |
| Materials | Galvanized steel; One-piece 12-Gauge Wire Mesh |
| Pack Size | 3 |
| Animals | Chipmunks, rats, squirrels, weasels |
Check out Havahart® Small Size Trap options - Compare and find the best trap for your problem!
X-Small 1-Door Trap
X-Small 2-Door Trap
Small 1-Door Trap
Small 2-Door Trap
Model #
0745
1020
1083
1025
Trap Length
17 in
10 in
17 in
18 in
Trap Opening (w x h)
6 x 6 in
3 x 3 in
7 x 7 in
5 x 5 in
# of Doors
1
2
1
1
Set as 1- or 2-Door Trap
✔
✔
Easy Set® 1-Step Set & Release
✔
Enlarged Handle Guard
✔
Galvanized Steel
✔
✔
✔
✔
Manufacturer's Warranty
1 Year
1 Year
1 Year
1 Year

WARNING: This product can expose you to chemicals including lead and lead compounds, which are known to the State of California to cause birth defects or other reproductive harm. For more information go to www.P65Warnings.ca.govwww.P65Warnings.ca.gov.
Havahart® Small 2-Door Trap
Model #
C1025
Dimensions
17.5" x 5.76" x 7.22"
Weight
3.45 lb
Materials

Galvanized steel
One-piece 12-guage wire mesh

Number of Doors
2
Door Type
spring-loaded doors
Available Pack Size
1, 2, or 3-Pack
Best Used For

Chipmunks
Rats
Squirrels
Weasels
With the outside setting mechanism the squirrels just run by it and set it off without even going inside. Very frustrating, any solutions?
Question by: Bernell on Dec 4, 2021, 4:00 PM
We're sorry to hear that this is happening. We recommend setting the trap with one door open or placing something over the trap to prevent the squirrels from climbing on the trap itself. Be sure that it does not interfere with the tripping levers.
Answer by: Lauren Steiner on Dec 7, 2021, 8:46 AM
Is there one trap to catch BOTH rats and mice?
Question by: Suzanne on Nov 5, 2021, 5:40 PM
As mice tend to be much smaller than rats and can squeeze through very small openings, we do not have a trap that is recommended for both mice and rats.
Answer by: Lauren Steiner on Nov 8, 2021, 7:57 AM