NEWS RELEASE *High-res images and/or product sample available upon request
HAVAHART® INTRODUCES CRITTER RIDDER® ANIMAL REPELLENT WITH NITROPLUS
New Dual Action Formula Repels Nuisance Animals + Restores Vegetation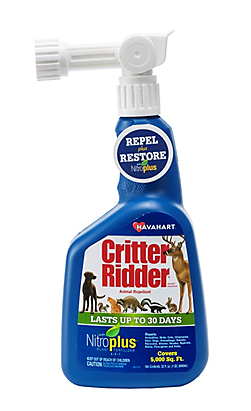 LITITZ, PA—Updated—Adding to its effective, long-lasting and affordable line of animal repellents, Havahart® introduces Critter Ridder® Animal Repellent with NitroPlus™. With more active ingredients than the traditional Critter Ridder® formula, the product features a new hose-end concentrate to safely deter a wider range of animals by irritating their senses of taste and smell. Even better, the proven animal repellent is enriched with NitroPlus, a restorative plant fertilizer that naturally promotes healthy, green grass and plants.
The powerful new Critter Ridder® formulation effectively repels armadillos, birds, cats, chipmunks, deer, dogs, groundhogs, moles, porcupines, rabbits, raccoons, shrews, skunks, squirrels and voles. Though the repellent is odorless to humans, it's offensive to the sensitive noses and taste buds of wild animals.
"Critter Ridder® with NitroPlus delivers the best of both worlds when it comes to cultivating a beautiful landscape," says Allyssa Kelley, Category Development Associate at Havahart. "The new formula prevents animals from grazing in your yard and at the same time delivers nutrients that encourage lush plants and deep root growth for drought resistance. Gardeners using this product for the first time are going to rejoice."
Easy-to-use, simply attach a garden hose to the Critter Ridder® hose-end nozzle and spray the solution on grass, gardens and soil to quickly deliver nutrition and protection to landscapes while repelling nuisance wildlife. Each 32-ounce container of Critter Ridder® with NitroPlus covers 5,000 square feet with long-lasting protection up to 30 days. For best results, apply Critter Ridder® at the first signs of critter damage to prevent animals from developing destructive habits, which can be difficult to break.
"When it comes to repelling animals, it's important to remember that patience is a virtue," says Kelley. "Although most repellents, both liquid and granular, are effective right away, it can take several interactions for a wild animal to make the connection between the disagreeable smell and taste and the treated area."
Critter Ridder® with NitroPlus is available for purchase online at Havahart.com. Consumers with nuisance wildlife control questions can call the Havahart customer care team at 800-800-1819 or visit www.havahart.com for solutions.
About Havahart®
Havahart® is the leading manufacturer of caring wildlife control products, trusted for more than 70 years. Its offerings include safe and humane animal control alternatives such as live animal traps, animal repellents, and electronic repellents. Almost all of the company's animal repellents are OMRI listed® organic or USDA® approved for organic gardening, reflecting Havahart®'s commitment to a cleaner, healthier environment. Havahart® is a registered trademark of Woodstream Corp.
Contact:
Ryan Public Relations
Carolyn Schinsky
314- 822-9784
carolyn@ryan-pr.com