Organic Formula Provides Protection from Rabbit and Deer Damage
NEWS RELEASE - For Immediate Release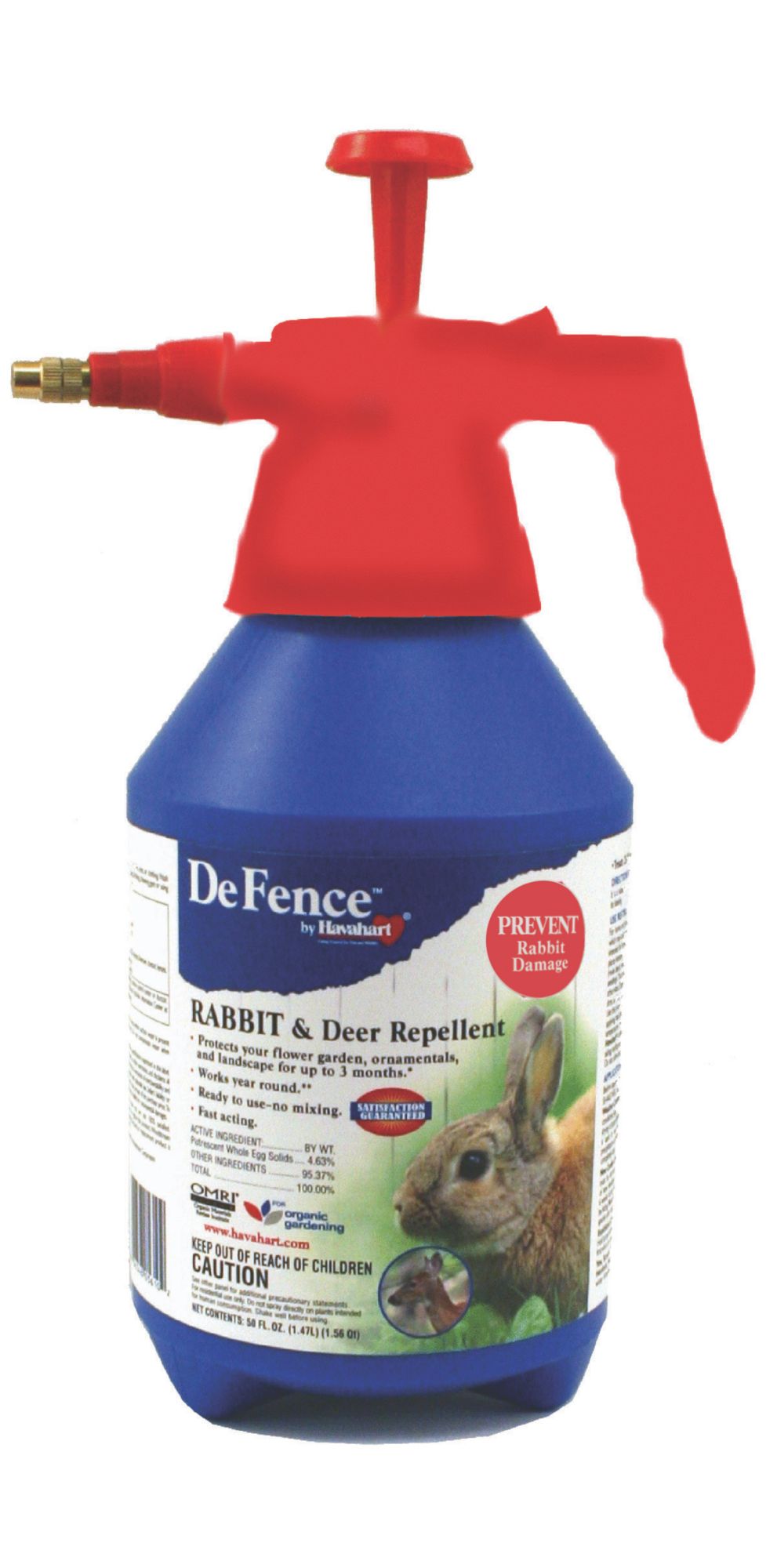 LITITZ, Pa., May 8, 2009 -- For years, homeowners have been chasing rabbits and deer off their properties with little success of keeping the animals away. The suburbanite may be dealing with rabbits dining on their beautiful ornamentals while their more rural neighbor could be waging the war against both rabbits and deer. Now, there is one solution to defend their turf against both animals.
DeFence® Rabbit Repellent by Havahart® is specifically targeted to effectively repel rabbits and deer from shrubs, ornamentals and landscaping – saving homeowners time and resources. Formulated with the highest level of active, odor deterring ingredients, DeFence® Rabbit Repellent by Havahart® is up to three times more powerful than other brands; yet dries odorless to humans.
"Research demonstrates that rabbits and deer can detect scents very well," explained Karolyn Warfel, Category Development Manager at Woodstream Corporation. "In fact, their sense of smell can be up to 1,000 times stronger than humans." "That is why we formulated DeFence® Rabbit Repellent by Havahart® to be the most powerful odor deterrent on the market," said Warfel.
Additionally, DeFence® by Havahart® is OMRI listed® and compliant for use in organic gardening. "Our formulation has passed strict independent testing to validate its compliance with organic standards," said Warfel.
DeFence® by Havahart® is available in two ready-to-use sizes: 32 oz. trigger sprayer, and NEW! 50 oz. pressurized pump. The pump top has a locking system, which alleviates hand-fatigue and is perfect for treating large areas.
About Havahart®:
Havahart®, a leading manufacturer of caring wildlife control products for more than 60 years, offers live animal traps and animal repellents. Its live animal traps are a safe and humane animal control alternative. Many of the company's animal repellents are OMRI listed® organic or USDA® approved for organic gardening, reflecting the Havahart® commitment to a cleaner, healthier environment. For more information, visit www.havahart.com or call 800-800-1819.
Havahart® is a registered trademark of Woodstream Corp.
About Woodstream Corp:
Woodstream Corporation is a long-standing, privately held company and a leading manufacturer and marketer of quality-branded wild bird feeders, rodent control products, caring control products for pets and wildlife, decorative garden accents & natural solutions for lawn and gardens. For more information, visit www.woodstreamcorp.com or call 800-800-1819.