New Havahart® Social Media Community Tweets and Posts Critter Solutions
NEWS RELEASE - For Immediate Release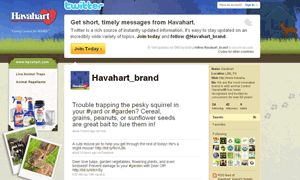 LITITZ, Pa., April 15, 2010 -- Now, when Havahart® talks about tweets, it's not just referring to the sounds of nature. Havahart®, the leading manufacturer of humane, organic nuisance animal products, is pleased to announce the launch of its Facebook, Twitter and YouTube social media portals.
These social media efforts are expanding Havahart®'s dialogue with customers on nuisance animal control solutions. In less than two months, Havahart®'s Facebook and Twitter pages have attracted fans and followers, and on YouTube, customers have posted their own videos. "It's a little ironic," said Theresa Flavin, marketing associate for Havahart®, "that we're in the business of repelling animals, but online we're doing an equally great job of attracting people."
In addition to educational content, photos and useful tips, Havahart®'s social media portals feature real-life examples from both experts and customers on what works - and what doesn't - in nuisance animal control. Fans, followers and video viewers are also privy to special promotions. On Facebook, for example, fans can receive a 20 percent discount via the Total Yard Protection tab, which links directly to http://www.havahart.com. In the future, Havahart®'s social media pages will feature contests and sweepstakes open only to members of the Havahart® social media community.
"At Havahart®, we're passionate about our organic nuisance animal products and helping homeowners safely protect their landscapes and gardens," continued Flavin. "Our customers are equally passionate, and our social media efforts create the perfect two-way forum to connect with customers like never before."
To follow Havahart® online, go to:
About Havahart®:
Havahart®, a leading manufacturer of caring wildlife control products for more than 60 years, offers live animal traps and animal repellents. Its live animal traps are a safe and humane animal control alternative. Many of the company's animal repellents are OMRI listed® organic or USDA® approved for organic gardening, reflecting the Havahart® commitment to a cleaner, healthier environment. For more information, visit www.havahart.com or call 800-800-1819.
Havahart® is a registered trademark of Woodstream Corp.
About Woodstream Corp:
Woodstream Corporation is a long-standing, privately held company and a leading manufacturer and marketer of quality-branded wild bird feeders, rodent control products, caring control products for pets and wildlife, decorative garden accents & natural solutions for lawn and gardens. For more information, visit www.woodstreamcorp.com or call 800-800-1819.
SHARE: