Havahart® Large 1-Door Animal Trap
Special Price
$175.49
Regular Price
$194.97
Havahart® Large 1-Door Animal Trap
11
5
5
1
Earn 3500 rewards points on your purchase! Learn More
Cost-effective 3-pack
Best used for armadillos, cats, groundhogs, muskrats, opossums, and raccoons
Collapsible design saves storage space when not in use
Simple to use regardless of previous trapping experience
Solid door & handle guard prevent contact with the animal
Smooth, rolled edges on the inside of the trap prevent injuries to animals during transport
Industrial-strength, rust-resistant galvanized steel, built to last
Best Used For






Havahart® Large 1-Door Collapsible Trap - 3 Traps
Stop pest animals from damaging your yards, gardens, and property with the Havahart® Large 1-Door Collapsible Trap. This industrial-strength galvanized steel trap is made to last and is simple to use even if you have no trapping experience. It's large enough to trap armadillos, cats, groundhogs, muskrats, opossums, and raccoons, and the collapsible design saves space when it's not in use. A solid door and handle guard prevent contact between you and your captive, and smooth, rolled edges help prevent injury to the animal during transport.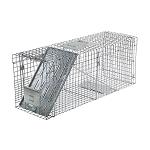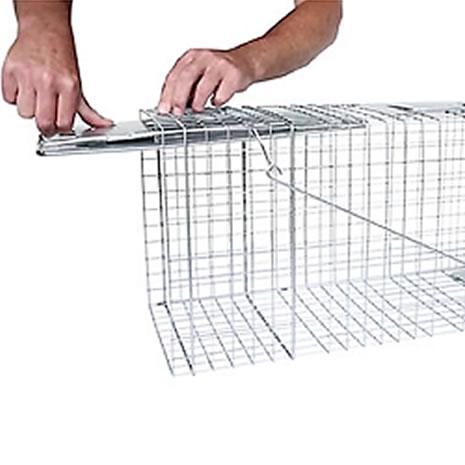 Easy to Operate
This Havahart® Collapsible Trap is simple to set up even without previous trapping experience. A spring-loaded door automatically captures animals once they are inside. The trap is designed so animals can be easily transported and released in a new location. To use, simply place, bait, and monitor the trap daily for a catch! Be sure to release the animal in a safe location where wild animals can be released legally.
Convenient to Store
Storing large traps can be inconvenient due to the amount of space they take up in your home. This trap keeps trapping space-saving while never sacrificing trapping power. The collapsible design lets users easily store the trap. It collapses into a convenient flat shape, so it doesn't waste valuable space in garages or other storage areas while not in use.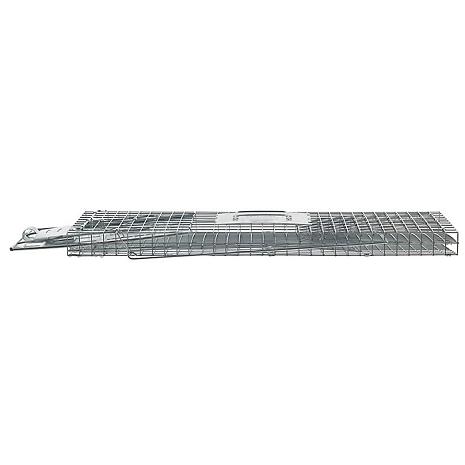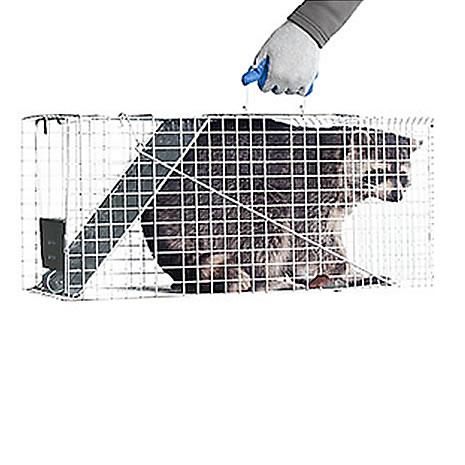 Safe Features for Humans and Animals
Animals are safely and humanely contained in this trap, meaning it can be used for feral cats and similarly sized animals. Smooth, rolled edges on the inside keep the animal safe while they are being transported. The solid door and handle guard let humans safely move the trap and release the animal while avoiding direct contact or injury.
Durable, Long-Lasting Construction
Constructed with industrial-strength galvanized steel, this collapsible trap is built to last. The 12-gauge one-piece wire mesh design provides strength and durability, and the trap is rust-resistant for long-term outdoor use. This trap is durable enough to trap with peace of mind knowing that the pest animal will be securely held until you wish to release it.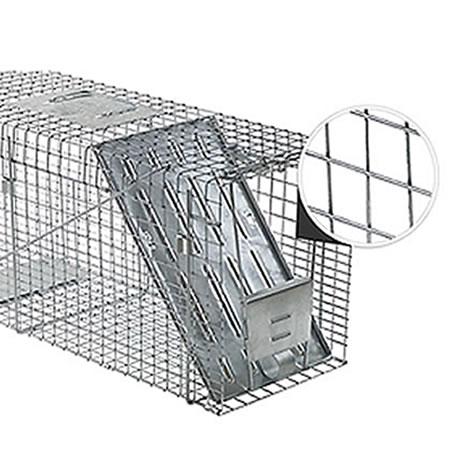 Havahart® Large 1-Door Collapsible Trap Product Details
Do you want to know more helpful details about the Havahart® Large 1-Door Collapsible Trap? Take a closer look at the in-depth specifications for this product.
Havahart® Large 1-Door Collapsible Trap
Model #
BB1089
Quantity
3 traps
Dimensions
32" x 10.5" x 12.5"
Weight
10.26 lb
Materials

Galvanized steel
One-piece 12-gauge wire mesh

Number of Doors
1
Door Type
Spring-loaded
Additional Features
Collapsible
Best Used For

Armadillos
Cats
Groundhogs
Muskrats
Opossums
Raccoons

WARNING: This product can expose you to chemicals including lead and lead compounds, which are known to the State of California to cause birth defects or other reproductive harm. For more information go to www.P65Warnings.ca.govwww.P65Warnings.ca.gov.
Havahart® Large 1-Door Collapsible Trap 3-Pack
Model #
BB1089
Dimensions
32" x 10.5" x 12.5"
Weight
10.26 lb
Materials

Galvanized steel
One-piece 12-gauge wire mesh

Number of Doors
1
Door Type
Spring-loaded
Additional Features
Collapsible
Best Used For

Armadillos
Cats
Groundhogs
Muskrats
Opossums
Raccoons