Havahart® Large 1-Door Animal Trap
As low as
$67.99
Regular Price
$92.49
Havahart® Large 1-Door Animal Trap
101
4.6
5
1
Earn 2440 rewards points on your purchase! Learn More
Ideal for humanely capturing armadillos, cats, groundhogs, muskrats, nutria, opossums, raccoons, skunks, bobcats, small dogs, small foxes, and beavers
Dimensions: 31.98 in x 10.6 in x 12.14 in
One spring-loaded solid metal door
Smoothed internal edges prevent injuries to animals
Designed for higher catch rate and fewer escapes
Made to last - Resists rust and corrosion
Comes fully assembled and ready to use
Trigger rod is located outside of the trap so animal cannot damage it while in the trap
Made in the U.S.A.
Available as 1-pack or 2-pack
Best Used For







Designed For You by Trapping Professionals
The Havahart® Large 1-Door Live Animal Trap is designed by trapping experts to be the most effective, reliable and durable trap of its kind. It is carefully constructed with a fine-tuned tripping mechanism that specially targets heavier critters like cats and raccoons - eliminating false triggers - and a powerful trap door that delivers quick, secure captures.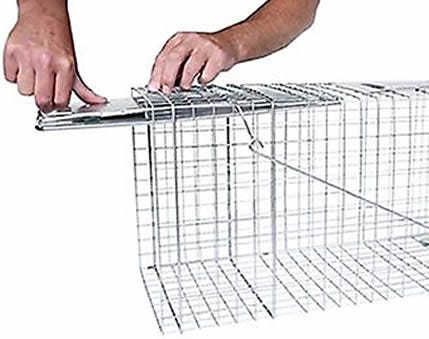 Simple to Operate
You don't have to be a pro to use this Havahart® large trap. Its design allows users of all experience levels to trap, transport, and release raccoon-sized animals with very little effort.
Watch more videos: How To Trap » | How To Bait »
Safe for You and the Animal
For You: A solid door and handle guard protect you from contact with a trapped animal, and the carrying handle allows you to hold the trap away from your body while an animal is inside.
For the Animal: A strong door lock keeps the animal safely inside the trap, while smooth, rolled internal trap edges prevent injuries to animals as they are being transported, or as they struggle to escape.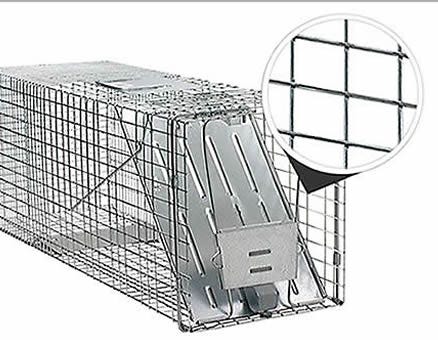 Havahart® Traps are Built to Last
Havahart® builds the strongest, most durable traps with premium materials, intended to endure harsh weather and unpredictable animal behavior. Traps are constructed of industrial-strength, one-piece wire mesh, which is galvanized for maximum resistance to rust and corrosion. A solid door and steel reinforcements add to the durability of the trap, ensuring an even longer trap life.
Check out Havahart® Large Size Trap options - Compare and find the best trap for your problem!
Large 1-Door Trap
Large 2-Door Trap
Large 1-Door Collapsible Trap
Model #
1079
1045
1085
Trap Length
32 in
36 in
32 in
# of Doors
1
2
1
Set as 1- or 2-Door Trap
✔
Easy Set 1-Step Set & Release
✔
Enlarged Handle Guard
✔
Galvanized Steel
✔
✔
✔
Manufacturer's Warranty
1 Year
1 Year
1 Year
Made in the USA
Havahart® traps have been proudly manufactured in the US for over 70 years.

WARNING: This product can expose you to chemicals including lead and lead compounds, which are known to the State of California to cause birth defects or other reproductive harm. For more information go to www.P65Warnings.ca.govwww.P65Warnings.ca.gov.
Havahart® Large 1-Door Trap
Model #
C1079
Sizes Available
1 or 2-Pack
Dimensions
32" x 10" x 12"
Weight
9.95 lb
Materials

Galvanized steel
One-piece 12-guage wire mesh

Number of Doors
1
Door Type
Spring-loaded
Best Used For

Armadillos
Bobcats
Small dogs
Small foxes
Beavers
Cats/stray cats
Groundhogs
Muskrats
Nutria
Opossums
Raccoons
Skunks
My 1079 came from the hardware store without instructions. Can you send them to me? Many thanks.
Question by: Matt Daley on Nov 30, 2021, 11:50 AM
Answer by: Lauren Steiner on Nov 30, 2021, 12:31 PM
My model 1079 does not have the metal plate and spring on the locking bar. It is brand new do I need to return it to Home Depot or is there another way to get a replacement?
Question by: Benjamin F Clardy on Oct 30, 2021, 3:52 PM
There are two versions of this trap, one has the metal plate on the locking bar, and the other does not. Please give us a call at 855-542-8242 for assistance with this trap, we're happy to help.
Answer by: Kathryn Tator on Nov 1, 2021, 7:54 AM
The wire that lifts the large door on the front of the trap is broken. Can I order the complete wire to replace the broken wire? please advise. Thanks. John Kizer
Question by: John Kizer on Jan 9, 2022, 4:29 PM
We're sorry to hear that this happened to your trap. Individual replacement parts are not available for our traps. They have a one year replacement policy.
Answer by: Lauren Steiner on Jan 10, 2022, 8:28 AM