Havahart® Introduces its New Spray Away Elite Motion Detector Sprinkler – the Ultimate Hose-Free Protection against Animal Intruders!
NEWS RELEASE - For Immediate Release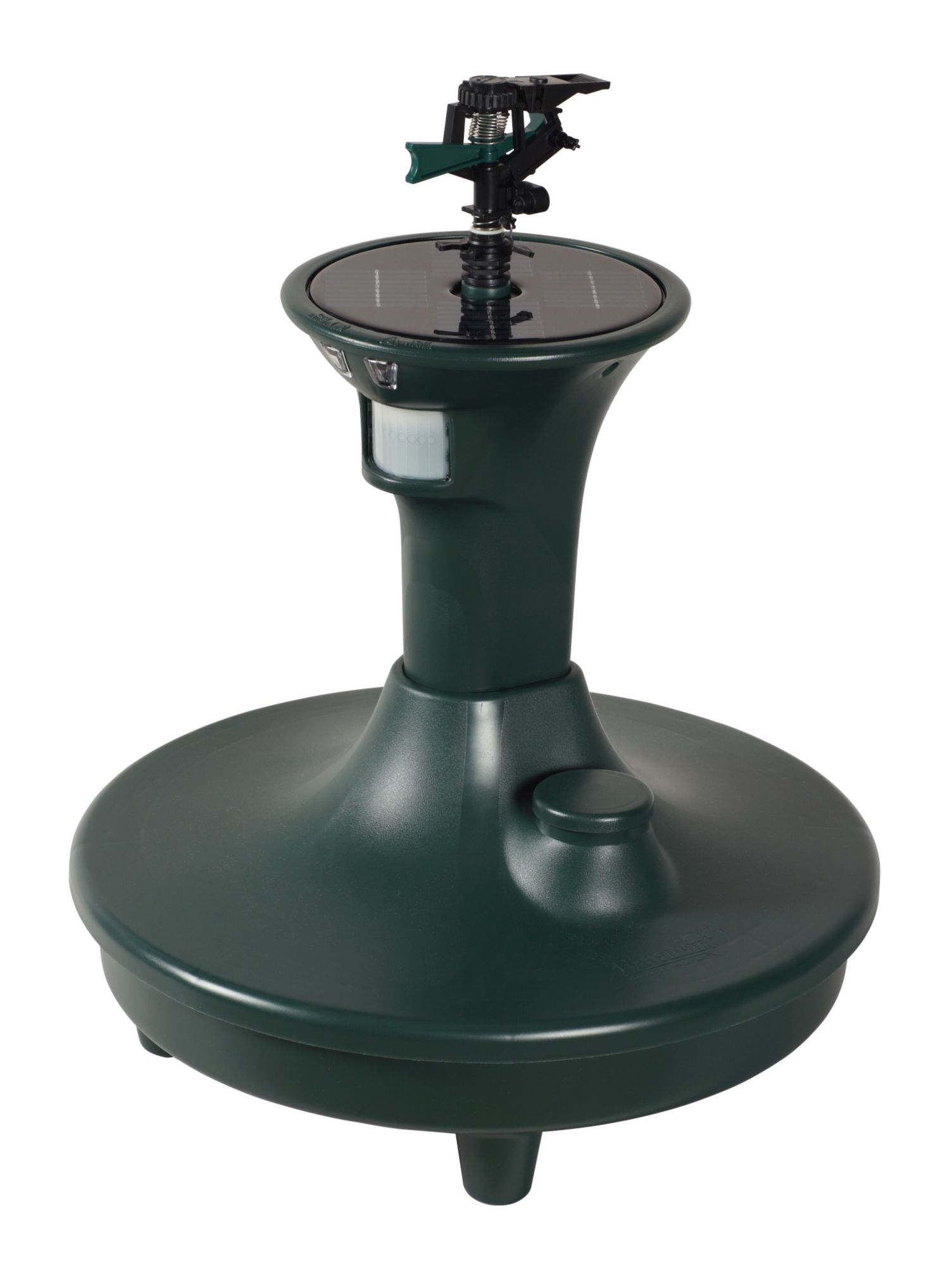 LITITZ, Pa., April 6, 2011 -- Today Havahart® announced a new addition to the company's popular Spray Away line, the hose-FREE & fully portable Spray Away Elite. Leading the pack, this new solar-powered, hoseless Spray Away is more eco-friendly, economical, and portable than any ever before!
Spray Away Elite starts working immediately at the first sign of animal movement to protect yards, gardens, plants, water features, and more from animals of all sizes.
This innovative Spray Away contains a discrete water basin which completely eliminates the need for a hose connection making the unit fully portable - so Spray Away Elite can be placed anywhere regardless of access to water. Additionally, this unique hose-free feature allows the device to blend seamlessly into any landscaping.
Although compact, Spray Away Elite's integrated water basin is armed for over 30 activations and protects up to 1,000 sq. ft. And since Spray Away Elite charges via a powerful solar panel located on the top of the unit, Havahart® has eliminated the need to replace batteries and built a more eco-friendly solution.
"Spray Away Elite provides homeowners with a highly effective, environmentally friendly alternative to chemical repellents and fencing - it's safe to use around your family and provides around the clock protection against destructive animals," said Stephanie Vansyckle, Havahart® Category Development Manager at Woodstream Corporation. "And the best part is that you don't have an unsightly hose running through your yard since this unit works hose-free!"
Havahart® Spray Away Elite works by using an infrared sensor to automatically detect deer, cats, dogs, heron, raccoons, and other nuisance animals, and repel them with quick bursts of water, noise and movement. This combination frightens the animal creating unpleasant experiences, which condition the unwanted critter to avoid the protected area in the future. Additionally, an adjustable sensitivity setting and random spray pattern prevents animals from growing accustomed to the sprinkler.
To add to its ease of use, Spray Away Elite also has two indicator lights that flash to alert users of low battery power and low water levels so manual checks are unnecessary.
The Havahart Spray Away® Elite is available for purchase online at Havahart.com and other online retailers. For more information on Spray Away Elite, please visit www.havahart.com.
About Havahart®:
Havahart®, a leading manufacturer of caring wildlife control products for more than 60 years, offers live animal traps and animal repellents. Its live animal traps are a safe and humane animal control alternative. Many of the company's animal repellents are OMRI listed® organic or USDA® approved for organic gardening, reflecting the Havahart® commitment to a cleaner, healthier environment. For more information, visit www.havahart.com or call 800-800-1819.
Havahart® is a registered trademark of Woodstream Corp.
About Woodstream Corp:
Woodstream Corporation is a long-standing, privately held company and a leading manufacturer and marketer of quality-branded wild bird feeders, rodent control products, caring control products for pets and wildlife, decorative garden accents & natural solutions for lawn and gardens. For more information, visit www.woodstreamcorp.com or call 800-800-1819.