Havahart® Adds Spray Away Elite II Sprinkler Animal Repellent to Product Line-up
NEWS RELEASE - For Immediate Release
New and Improved Hose-free, Motion-Activated Repellent Protects Landscapes from Nuisance Animals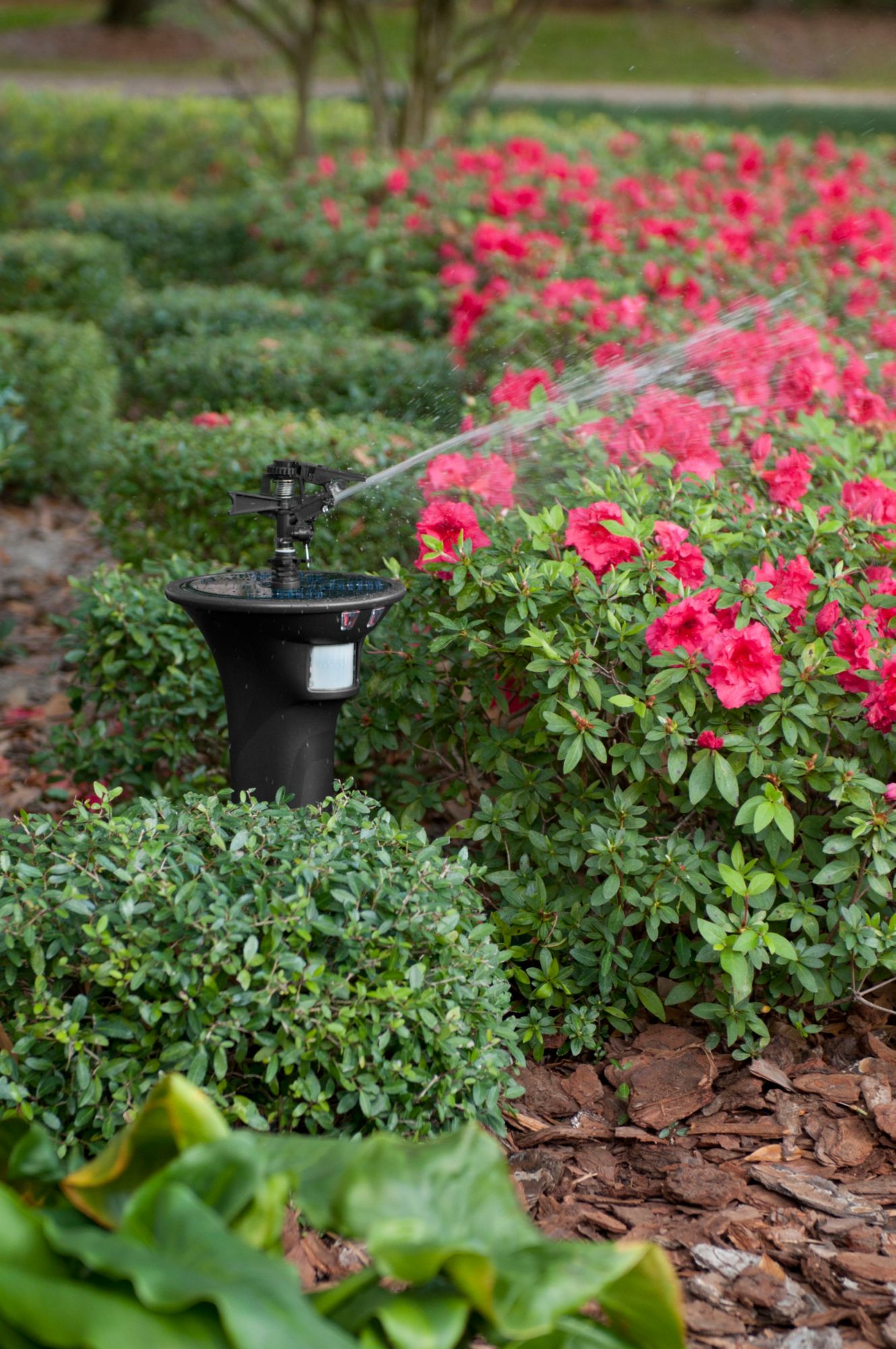 Lititz, Pa., April 8, 2013 -- Continuing in its commitment to helping homeowners protect their lawns and garden from nuisance animals, Havahart®, a trusted brand for more than 60 years, has taken a good thing and made it even better. Adding to its successful Spray Away product line, Havahart introduces the newest model this week. Like its predecessor, the Spray Away Elite, the new hose-free, motion activated Spray Away Elite II provides an effective, low-maintenance and humane way to keep unwanted animals away from lawns and gardens. However, the new Elite II boasts enhanced features including improved performance, durability and ease of use.
"We're working harder than ever to help consumers protect their landscapes from unwanted nuisance animals – which is why we're incredibly excited about the superb design and enhanced performance of the new Spray Away Elite II," says Alison Girschick, Category Development Associate at Havahart.
The new Elite II uses solar-powered, infrared sensors to detect an animal's heat and movement up to 35 feet away. Once detected, the Spray Away system instantly emits a burst of water combined with unexpected noise and motion that effectively repels unwanted animals without harming them. The robustly designed, low-maintenance Elite II is powerful enough to protect areas up to 1,900 square feet.
"Hands down, the Elite II is the most effective, technologically advanced animal repellent on the market today," says Girschick. "It offers homeowners an easy-to-use, eco-friendly and humane way to protect their yard and garden from unwanted critters, 24/7. And because the Elite II doesn't use any chemicals, just water, it's completely safe to use around kids and pets."
Portable, discreet and easy-to-use, the Spray Away Elite II does not require the use of a garden hose. Instead, it uses a large, durable water basin that holds enough water to release approximately 35 spray activations. The spray distance can be adjusted to cover shorter or longer areas, and protects against animals of all sizes, including deer, dogs, raccoons, groundhogs, opossum, skunks, cats, rabbits, squirrels, and geese. A random spray pattern prevents animals from growing accustomed to the sprinkler and conditions them to avoid the area.
"The water basin on the portable Elite II eliminates the need for a garden hose connection, giving users the freedom to protect any area, regardless of access to water," says Girschick. "The hose-free feature also allows the unit to blend into the landscape; if desired, the water basin can be buried for discrete nuisance animal protection."
The Havahart Spray Away® Elite II uses eco-friendly solar panels to charge the unit, eliminating the need and cost to replace batteries. For additional ease-of-use, the Elite II is equipped with smart sensors that flash when the unit is low on battery power or low on water, rendering manual checks unnecessary.
And now the Spray Away Elite II comes pre-charged. "As soon as you open the box, the unit is ready to use. Simply fill the basin with water, set the spray to your desired coverage area, then sit back and relax – your Spray Away Elite II is ready to protect your yard and garden from uninvited guests."
The Havahart Spray Away® Elite II is available for purchase online at Havahart.com for $179.99. For more information on Havahart Spray Away® Elite II and other wildlife control products, please visit www.havahart.com.
About Havahart®:
Havahart®, a leading manufacturer of caring wildlife control products for more than 60 years, offers live animal traps and animal repellents. Its live animal traps are a safe and humane animal control alternative. Many of the company's animal repellents are OMRI listed® organic or USDA® approved for organic gardening, reflecting the Havahart® commitment to a cleaner, healthier environment. For more information, visit www.havahart.com or call 800-800-1819.
Havahart® is a registered trademark of Woodstream Corp.
About Woodstream Corp:
Woodstream Corporation is a long-standing, privately held company and a leading manufacturer and marketer of quality-branded wild bird feeders, rodent control products, caring control products for pets and wildlife, decorative garden accents & natural solutions for lawn and gardens. For more information, visit www.woodstreamcorp.com or call 800-800-1819.