Havahart® Medium 2-Door Safe Release Animal Trap - Single
Special Price
$59.99
Regular Price
$64.99
Havahart® Medium 2-Door Safe Release Animal Trap - Single
7
3.3
5
1
Earn 1180 rewards points on your purchase! Learn More
Patented hands-free time release door reduces stress for you and the animal
3-step release: set timer, unlock latches, walk away
Rust-resistant wire mesh with steel reinforcements
Solid doors & handle guards protect user during transport
Best Used For



Havahart® Medium 2-Door Safe Release Live Animal Cage Trap
The Havahart® Medium 2-Door Safe Release Trap is the latest in animal-trapping innovation. The patented time-release technology makes this trap the first of its kind, while still maintaining Havahart®'s standards for efficiency, reliability, and durability. This trap is easy to set and effectively traps a variety of animals including skunks, rabbits and squirrels. Plus, the hands-free release is as simple as 1, 2, 3!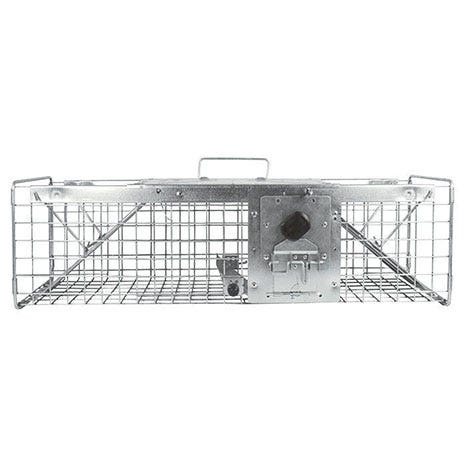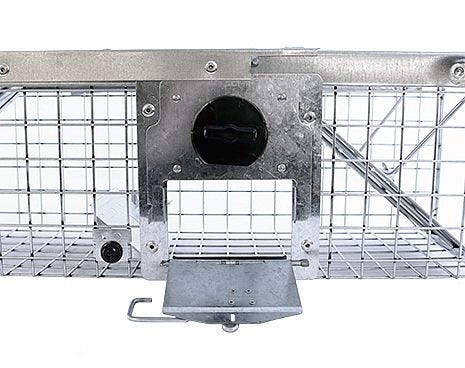 Patented Time Release Door
The Havahart® Safe Release Trap is the first ever trap with time-release capabilities! The timer can be set for up to 5 minutes, allowing you to be a safe distance away when the cage door opens. The animal can exit the trap without the user ever needing to come into direct contact with the catch. This hands-free release is the perfect solution for wary first-time trappers and seasoned users alike.
Easy 3 Step Release
With the Havahart® Medium 2-Door Safe Release Trap, releasing an animal has never been easier. Simply set the trap's timer and unlock the latches on the release door. Then walk a safe distance away from the trap and wait for the timer to go off. Once the time is up, the cage door will automatically open to release the animal.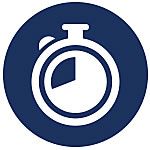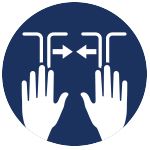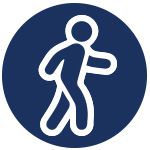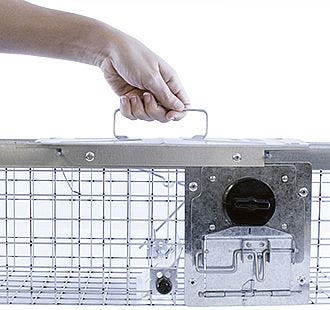 Reduces Stress for You And The Animal
For You: A handle guard and solid doors protect you from coming into contact with the animal while it is inside the trap. The handle allows you to carry the trap away from your body during transport. Plus, the timed door means you can stand at a safe distance away from the trap as the animal is released from the cage.
For The Animal: Strong door locks keep animals safely in the cage, and smooth, rolled edges prevent anxious critters from injuring themselves during transport.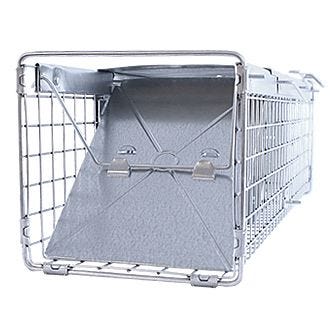 Simple and Effective
You don't have to be a pro to use the Havahart® Safe Release trap. Its simple design allows trappers of all experience levels to capture, transport and release animals with ease. Additionally, this trap features a fine-tuned trip mechanism to target critters of a specific weight range, eliminating false triggers. The spring-loaded doors ensure secure, fast trapping.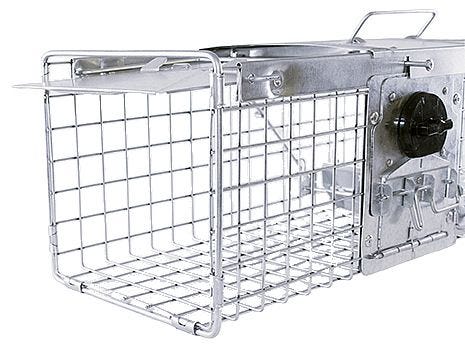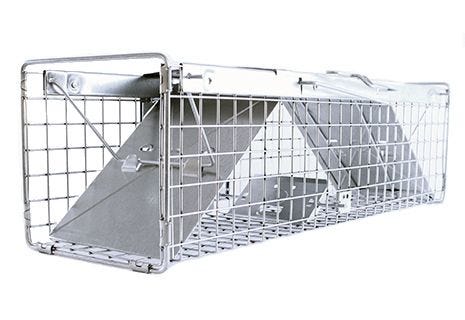 Two-Door Design for Higher Catch Rates
The dual door function allows you to create a clear path from one end of the trap to the other by setting it with both ends open. Place the trap against a wall or along an animal's path in order to capture it as it travels from either direction. In order to access the bait and get to the other opening, the animal must step on the trigger plate, resulting in a catch.
Built to Last
Made with premium materials, Havahart® traps are designed to endure harsh weather and unpredictable animal behavior. The industrial strength, one-piece wire mesh construction is galvanized for maximum resistance to rust and corrosion, while solid doors and steel reinforcements add to the durability of the trap to ensure a long life for your trap.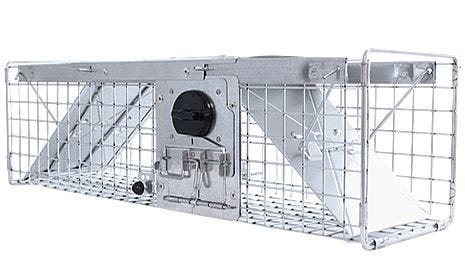 Havahart® Medium Safe Release Trap Product Detail
Do you want to know more helpful details about the Medium Safe Release Trap? Take a closer look at the in-depth specifications for this product.
Havahart ® Medium Safe Release Trap
Model #
632
Dimensions
24 " x 7" x 7"
Weight
5.7 lb
Door Type
2 Spring-loaded Doors
Release Mechanism
5 Minute Timer Release
Materials
Galvanized steel; One-piece 12-Gauge Wire Mesh
Animals
Skunks, Rabbits and Squirrels

Proudly Made In America
Havahart® traps have been proudly manufactured in the United States for over 70 years.

WARNING: This product can expose you to chemicals including lead and lead compounds, which are known to the State of California to cause birth defects or other reproductive harm. For more information go to www.P65Warnings.ca.govwww.P65Warnings.ca.gov.
Product Specs
Critter Ridder® Motion-Activated Animal Repellent
Model #
5277
Dimensions
10.75" x 5.69" x 4"
Weight
5.75 lb
Batteries Required
2 AA Batteries (not included)
Sensitivity Settings
OFF, 1, 2, 3, 4, Sprinkler
Detection Range
Up to 100 ft
Spray Range
Up to 35 ft
Materials
Plastic, metal
Animals

Birds
Cats
Chipmunks
Deer
Dogs
Groundhogs
Opossums
Rabbits
Raccoons
Skunks
Squirrels
HAVAHART® MEDIUM 2-DOOR SAFE RELEASE ANIMAL TRAP
Model #: 632

I have an older version of this cage without the timer and extra door.
Its GREAT! Do you have THE some without the timer door. I need 3 of these
traps.

Thanks
William Wegener
Question by: william wegener on Jul 26, 2021, 8:00 PM
The Medium size is currently only available as the safe release.
Answer by: Woodstream (Admin) on Jul 27, 2021, 8:00 PM
What do you recommend to trap a woodchuck?
Question by: Greg Adair on Sep 20, 2020, 8:00 PM
We have several traps that can be used for woodchucks. Click here to view our current selection.
Answer by: Woodstream (Admin) on Sep 21, 2020, 8:00 PM
Will a medium safe exit trap accomodate a large skunk
Question by: Teresa Dromgoole on Oct 14, 2020, 8:00 PM
We would recommend a medium to large sized trap for catching skunks.
Answer by: Woodstream (Admin) on Oct 15, 2020, 8:00 PM
how to set up the a two door medium size trap

Question by: Manik Hwang on Oct 25, 2019, 8:00 PM
For instructions on how to set up this trap, take a look at our video here. For any additional set up questions, feel free to give us a call at 1-855-5-HAVAHART (1-855-542-8242).
Answer by: Woodstream (Admin) on Oct 27, 2019, 8:00 PM