Havahart® Easy Set® Large 1-Door Animal Trap
Havahart® Easy Set® Large 1-Door Animal Trap
169
3.5
5
1
Earn 3420 rewards points on your purchase! Learn More
Best used for armadillos, cats, groundhogs, muskrats, nutria, opossums, raccoons, and skunks
Patented Easy Set® design allows you to set and release the trap with one hand
Enlarged steel plate and handle on the top of the trap minimizes risk of contact with animal
Smooth, rolled trap edges protect the animal from injury
Spring-loaded door lock helps prevent animals from escaping
Sensitivity screw allows you to tailor the trap to target animal
Best Used For







Havahart® Large 1-Door Easy Set® Trap
Removing animals from your property in a safe, humane manner is simple with the Havahart® Large 1-Door Easy Set® Trap. Living in the country, you expect animal pests on your property, but even in the suburbs, larger animals such as raccoons, armadillos, or even feral cats may make a nuisance of themselves, destroying your garden or posing a health threat for children and smaller pets. Trap these animals on your property and release them in a location where they won't be able to dig up your yard, spread disease, or cause messes from tipping over trash cans.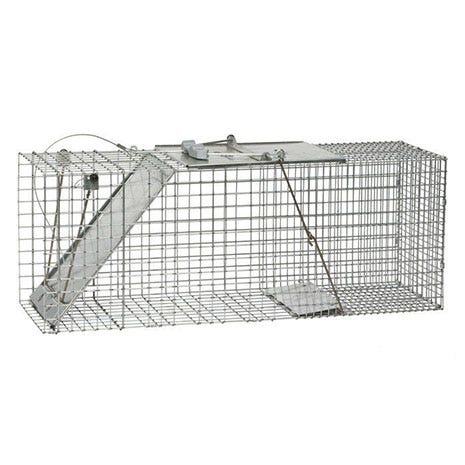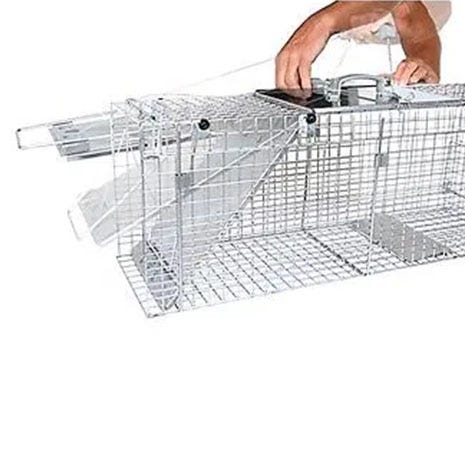 Simple Trapping of Larger Animals with Easy Set®
Easy Set® technology lets you set your large animal trap with just one hand and in one quick motion. It also lets you release your critter safely from the back.
Use the lever to set the trap in the open position; once the sensor detects an animal in the trap, the fluid spring mechanism closes the cage door behind them. When it's time to release the animal, simply use the lever to quickly open the cage. The Easy Set® mechanism means the trapped animal can be let go without you ever having to touch the door.
Secure Trapping for Your Protection
This Havahart® animal trap is designed for strength coupled with easy operation, keeping you safe when trapping larger pests. The top of the animal trap is covered with a large steel plate, protecting your hand and surrounding the oversized handle. Patented technology from Havahart® lets you set and release the trap with just one hand. The steel bars are designed with rolled edges to protect the animal from scrapes or cuts while inside.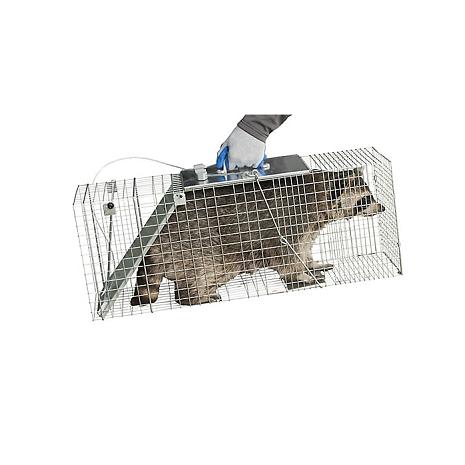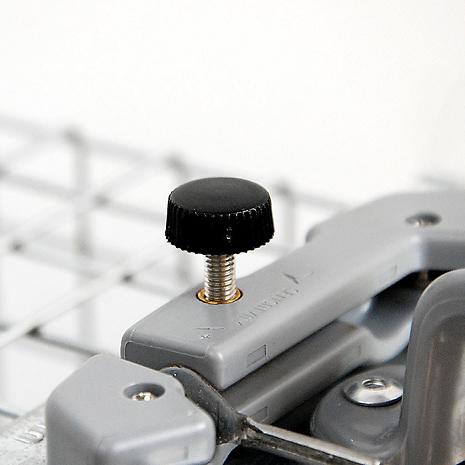 Peace of Mind, Humane Trapping
Havahart® focuses on trapping and releasing larger animal pests in a humane manner, with intuitive technology for a regular homeowner to safely operate. The spring-loaded door fits tightly, reducing the likelihood of escape when transporting the animal. A patented sensitivity screw makes the trap adjustable for different sized animals. For example, an armadillo may need a more sensitive setting than a raccoon. This lets you capture only the animals you want.
Havahart® Large 1-Door Easy Set® Trap Product Details
Do you want to know more helpful details about the Havahart® Large 1-Door Easy Set® Trap? Take a closer look at the in-depth specifications for this product.
Havahart® Large 1-Door Easy Set® Trap
Model #
1085
Dimensions
32" x 10" x 12"
Weight
13.25 lb
Materials

Galvanized steel
One-piece 12-guage wire mesh
Plastic carrying handle

Number of Doors
1
Door Type
Spring-loaded
Setting Mechanism
Easy Set®
Additional Features
Sensitivity screw
Best Used For

Armadillos
Cats
Groundhogs
Muskrats
Nutria
Opossums
Raccoons
Skunks
Check out Havahart® Large Size Trap options - Compare and find the best trap for your problem!
Large 1-Door Trap
Large 2-Door Trap
Large 1-Door Easy-Set Trap
Model #
1079
1045
1085
Trap Length
32 in
36 in
32 in
# of Doors
1
2
1
Set as 1- or 2-Door Trap
✔
Easy Set 1-Step Set & Release
✔
Enlarged Handle Guard
✔
Galvanized Steel
✔
✔
✔
Manufacturer's Warranty
1 Year
1 Year
1 Year

WARNING: This product can expose you to chemicals including lead and lead compounds, which are known to the State of California to cause birth defects or other reproductive harm. For more information go to www.P65Warnings.ca.govwww.P65Warnings.ca.gov.
Havahart® Large 1-Door Easy Set® Trap
Model #
1085
Dimensions
32" x 10" x 12"
Weight
13.25 lb
Materials

Galvanized steel
One-piece 12-gauge wire mesh
Plastic carrying handle

Number of Doors
1
Door Type
Spring-loaded
Setting Mechanism
Easy Set®
Additional Features
Sensitivity screw
Best Used For

Armadillos
Cats
Groundhogs
Muskrats
Nutria
Opossums
Raccoons
Skunks
Customer Reviews
4%
of customers
recommend this product