NEWS RELEASE
Media Contact:
Carolyn Schinsky / Ryan PR / 314- 822-9784 / carolyn@ryan-pr.com
Havahart Announces 3rd Annual Nationwide "Deer John Contest"
Over $1,000 in Prizes to Be Awarded for Best Bambi Break-Ups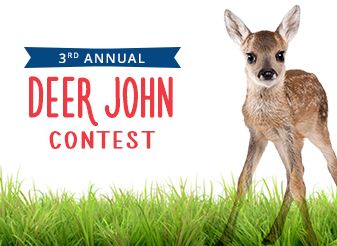 LITITZ, PA—July 22, 2015—Gardeners gone wild, desperate homeowners looking for revenge, disillusioned romantics: these are the people that Havahart®, the leading producer of humane products designed to send backyard critters packing, hopes will enter the 3rd annual Deer John contest.
The nationwide contest seeks out the best, most heart-wrenching Deer John rejection letters and other media targeted at cutting the ties with Bambi. The break-ups can be blunt, shocking, poignant or heartless, but they all must communicate one message: That doe has got to go!
The best break-up submissions will be awarded $500, $250 and $100 for 1st, 2nd and 3rd place, respectively. Additionally, five runner-ups will receive a Havahart Deer Off® Deer Repellent prize package valued at $40 each. The contest runs through September 13, 2015.
"Dear John letters harken back to WWII when American women were known to send curt breakup letters to their deployed beaus, explaining that they'd moved on to be with a new stateside lover," says Allyssa Kelley, Category Development Associate at Havahart. "In a similarly heartless fashion, the Deer John contest invites homeowners to submit a Deer John letter explaining why it's high time to break off your relationship with Bambi."
The Deer John contest also welcomes more modern renditions of the traditional Deer John break-up letter, such as photos of destroyed gardens, videos of critters caught in the act, or serenading songs letting them down easy – anything to prove the point that it's time they move on.
"While the Deer John letters are bound to break a few hearts, Havahart lessens the blow by offering homeowners a wide variety of humane critter control products," says Kelley, Category Development Associate at Havahart. "Your backyard deer will be brokenhearted to give up its raised bed meals, but they're in good hands with repellents made with a commitment not to harm animals. "
Need some inspiration? Last year's Deer John contest winners took the grand prizes with a nostalgic rhyming couplet (To My Deerest Deer"), a sappy ode to a backyard bunny, and a classic breakup letter with the most cutting line of all "It's not you. It's me." Ouch.
"We want to point out that this is an equal opportunity contest," says Kelley. "This is your chance to send squirrels, rabbits, and other backyard pests packing. If they're taking over your turf, it's time to tell them how you really feel."
To enter the "Deer John" contest and view the official rules, visit the Havahart Facebook page or the Havahart blog.
For more information on Havahart's line of caring wildlife control products, visit http://www.havahart.com or call 1-800-800-1819.
About Havahart®
Havahart® is the leading manufacturer of caring wildlife control products, trusted for more than 70 years. Its offerings include safe and humane animal control alternatives such as live animal traps, animal repellents, and electronic repellents. Almost all of the company's animal repellents are OMRI listed® organic or USDA® approved for organic gardening, reflecting Havahart®'s commitment to a cleaner, healthier environment. Havahart® is a registered trademark of Woodstream Corp.