Two Ways to Apply - Two Ways to Protect! New Patented Havahart® Liquid Critter Ridder® Makes It Easier Than Ever to Repel Nuisance Animals.
NEWS RELEASE - For Immediate Release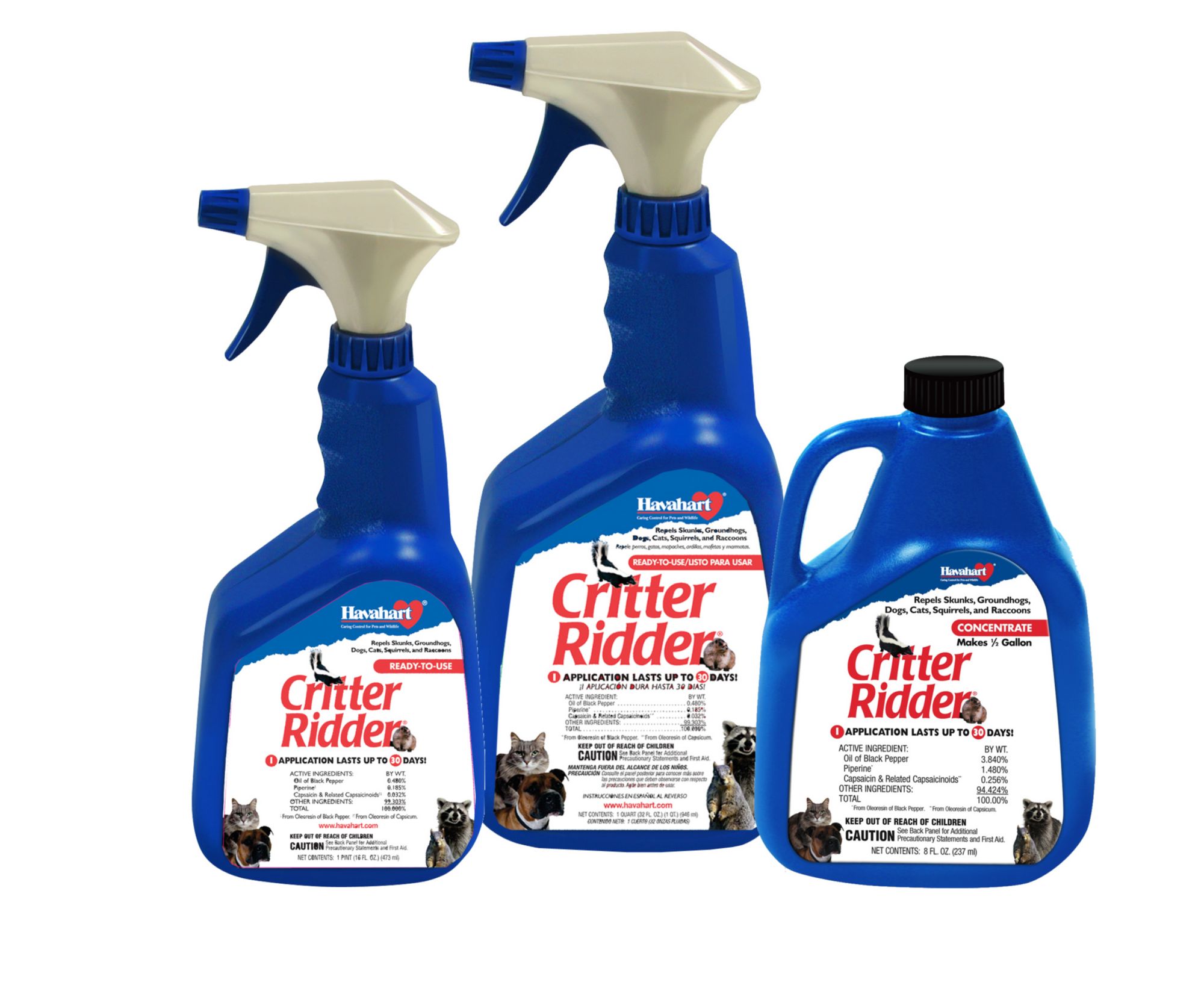 LITITZ, Pa., July 10, 2006 -- From dried blood to human hair to ammonia to soap to other stinky concoctions, frustrated homeowners are waging a David and Goliath style battle on the nuisance animals that are causing extensive damage to lawns and gardens. And for the most part, the animals have been winning – until now.
Havahart® is helping homeowners take back their yards by offering Critter Ridder® in two different product forms: Granular for perimeter protection around the gardens and flowerbeds and new Ready-to-Use and Concentrate formulas for multi-surface direct application on garbage bags, plants and much more. Critter Ridder® repels skunks, squirrels, groundhogs, raccoons, cats and dogs with a unique patented pepper-based formula, with oil of black pepper, piperine and capsaicin as the active ingredients. Critter Ridder® provides dual protection repelling by odor and taste. One application lasts for up to 30 days – up to 4 times longer than other small animal repellents. The lasting effectiveness offers consumers unparalleled convenience, as well as exceptional value.
Havahart® Critter Ridder® is part of a full line of animal repellents including Deer Off®, Deer Away® and Get Away®. These products are available through major retailers or at www.havahart.com.
About Havahart®:
Havahart®, a leading manufacturer of caring wildlife control products for more than 60 years, offers live animal traps and animal repellents. Its live animal traps are a safe and humane animal control alternative. Many of the company's animal repellents are OMRI listed® organic or USDA® approved for organic gardening, reflecting the Havahart® commitment to a cleaner, healthier environment. For more information, visit www.havahart.com or call 800-800-1819.
Havahart® is a registered trademark of Woodstream Corp.
About Woodstream Corp:
Woodstream Corporation is a long-standing, privately held company and a leading manufacturer and marketer of quality-branded wild bird feeders, rodent control products, caring control products for pets and wildlife, decorative garden accents & natural solutions for lawn and gardens. For more information, visit www.woodstreamcorp.com or call 800-800-1819.