Havahart® Deer Away®
Choose a brand to learn and explore more
HAVAHART® DEER AWAY®
powerful, scent-based deer repellent that lasts up to 90 days
Shop Deer Away® »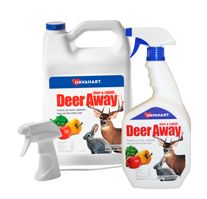 Deer Away® is Proven to Repel:
How Deer Away® Works
Deer Away® is a fast-acting deer repellent with the highest concentration of putrescent egg on the market. Deer Away® dries odorless to humans, but a deer's highly developed sense of smell can readily detect it. The scent of putrescent egg mimics that of a decaying animal, which alerts deer and other animals of nearby predator activity. This fear triggers an instinctual flight response to keep deer away from your plants, garden, and other protected areas.
How to Use Deer Away®
Spray Deer Away® at the first signs of browsing. Apply generously onto vegetation, to the point of runoff, in areas that are susceptible to deer and rabbit damage. Do not spray directly onto edibles - instead, create a repellent barrier around vegetable gardens by spraying around the perimeter. For more information on how to apply repellents and expert tips, read How To Repel An Animal »
SPRAY
SHOP NOW »
Where to Apply Deer Away®
Use Deer Away® Deer and Rabbit Repellent to defend:
Vegetable Gardens
Trees
Hemlock
Flower Beds
Ornamental Plants
Trees
Non-Bearing Fruit & Citrus Trees
Shrubs
Seedlings
And More..
Approved for Organic Gardening
Deer Away® is OMRI® Listed and USDA approved for use in organic gardening. Organic gardeners can confidently use Deer Away® as a natural alternative to chemical repellents.