Learn About The Newest Generation
of Motion-Activated Animal
Repellents
We know you may have landed here looking for
a competitor's product, but
we've made a better product and we can
show you why.

Suggested Retail Price

$59.99

$79.00

Sensor Area

1,750 sq ft

1,300 sq ft

Adjustable Sensor
Repels Animals of
All Sizes

High/Medium/Low Terrain Sensor - targets squirrels and small animals. Customize to your landscape.

Low Battery
Warning System

Red LED light tells you from a distance

LED Light Movement Detection
Aids Setup

Will not get sprayed while testing unit

Leak-Free
Engineering

Two hose connection options

2 Year Warranty

Committed to making customer satisfaction our #1 priority

Eco-friendly

Low Maintenance, using 2-3 cups of water per spray, no harmful chemicals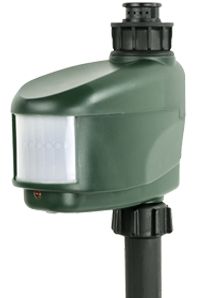 We've Revolutionized Motion Activated Sprinklers.
After combing through hundreds of reviews and your valuable feedback, we've made you the unit you've been looking for -- see what people are saying!
"I bought three of the motion activated sprinklers to keep deer away from a rose garden that is unfenced. I have watched deer stray into the sensor area and then immediately dart away when sprinklers are activated. Now the deer literally stay in the perimeter of the area being protected. Very satisfied with this product-- and my roses are too!" — Randy
Watch It In Action!
SHOP SPRAY AWAY »