New High-Tech Havahart Spray Away® Elite Sprinkler Repellent Protects Yards from Costly Animal Damage
NEWS RELEASE - For Immediate Release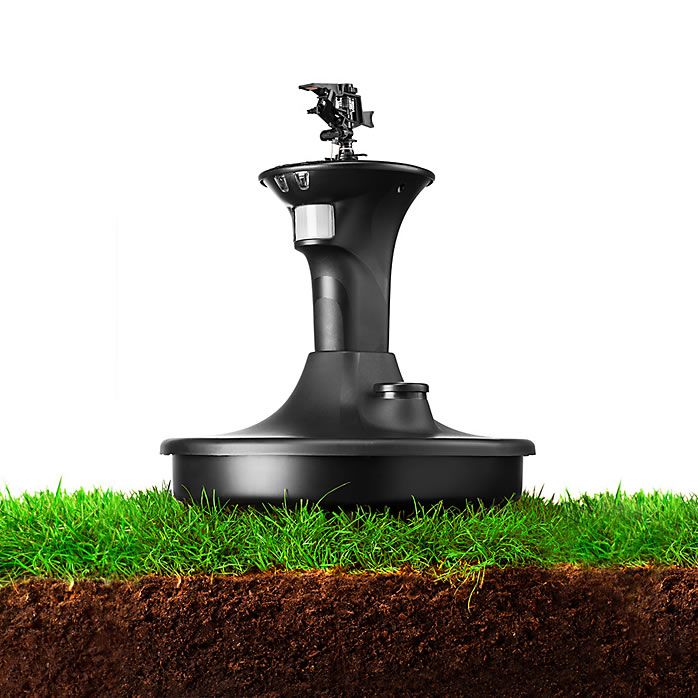 LITITZ, Pa., April 5, 2012 -- Homeowners battling unwanted animals on their property can finally win the war and protect costly home investments with the new Havahart Spray Away® Elite repellent, a solar-powered, hose-free motion-activated deer and animal repellent.
This high-tech animal repellent sprinkler from Havahart®, the leading nuisance animal control company, keeps deer, rabbits, skunks, groundhogs, herons and other unwanted animals like the neighbor's dog or cat out of the garden, lawn and ponds by chasing them off with a blast of water.
"A motion detector sprinkler is an effective, time-saving alternative to costly fencing or deterrent sprays that constantly need to be reapplied," says animal expert and naturalist David Mizejewski with the National Wildlife Federation. "They use only plain water which makes them a safe, environmental solution to keep troublesome critters out of gardens without harming them."
Spray Away Elite is convenient to use and works without attaching a garden hose or batteries so it's portable and discreet.
This video shows how easy it is to set up. Just place the solar-powered sprinkler on the ground in the desired protection area and fill the tank with about 3 gallons of water. It covers up to 1,900 sq. ft. with each blast and basin water lasts for about 35 activations before it needs refilling.
When an animal gets within 1,900 square feet, the sprinkler releases a sudden burst of water and an unexpected noise that scares the animal away. The sensitivity detector adjusts for large or small animals, and the random spray pattern prevents animals from getting used to it. Two indicator lights warn when it's time to recharge the solar powered battery or fill the water tank.
"The Spray Away Elite Sprinkler gives homeowners peace of mind that their yard is being protected," says Lauren Eyer for Havahart®. "You don't have to hide behind unsightly fences or worry about spraying chemicals around kids or pets, because your yard is protected 24/7!"
According to Eyer, unwanted animal problems are progressive. "Minor nuisance animals can be handled easily with a scent repellent," she explains. "More persistent problems require both scent and taste to repel the animals.
"When you have a serious animal problem, you need a bigger solution," she adds. "Touching the animal with water is the most effective solution to repel unwanted animals. The Spray Away Elite is the best line of defense to protect your property. It's as close as yourself standing watch out in your yard as you can get."
Eyer says animals are creatures of habit. "Once they have a bad experience in your yard, they won't be back," she says. "And it only takes a few blasts of water to make them move on to dine elsewhere."
Havahart Spray Away® Elite and other eco-friendly, safe and effective animal repellents and traps are available online at http://www.havahart.com or at local home and garden stores. Learn how to protect your garden and landscape from a wide variety of destructive animals with Havahart's Animal Repellent Guide.
About Havahart®:
Havahart®, a leading manufacturer of caring wildlife control products for more than 60 years, offers live animal traps and animal repellents. Its live animal traps are a safe and humane animal control alternative. Many of the company's animal repellents are OMRI listed® organic or USDA® approved for organic gardening, reflecting the Havahart® commitment to a cleaner, healthier environment. For more information, visit www.havahart.com or call 800-800-1819.
Havahart® is a registered trademark of Woodstream Corp.
About Woodstream Corp:
Woodstream Corporation is a long-standing, privately held company and a leading manufacturer and marketer of quality-branded wild bird feeders, rodent control products, caring control products for pets and wildlife, decorative garden accents & natural solutions for lawn and gardens. For more information, visit www.woodstreamcorp.com or call 800-800-1819.