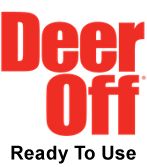 Compare Liquid Fence® to the Dual-Action Protection of Deer Off®
Animals Repelled

Dual Deterrent - Odor & Taste

Amount of Active Ingredient
(Putrescent Egg)

4.63%

1.07%

Long-Lasting

Reapply every 3 months

Reapply every month

EPA Registered

Certified Organic

Dries Odorless

Can Be Used Around Kids & Pets

Coverage Area
(32 oz. Ready-To-Use)

500 sq. ft.

500 sq. ft.

100% Money Back Guarantee
Learn More! »
Deer Off® II deer repellent reviews prove that it's better than the competition:
"I live in a heavily wooded area that is heavily populated by deer and other wildlife. Year after year my plants and shrubs have been eaten down to the ground. I have tried another popular deer repellent, but if I didn't apply soon after it rained, the deer would be out there eating all of my plants again. This year I tried Deer Off, and I haven't even had a nibble!
Thank you Havahart, my yard looks beautiful for the fist time in four years!" — Maria
Havahart® Deer Off® should not be confused with Liquid Fence® which is a product and registered
trademark of The Liquid Fence Company®.